Free Laundry Vouchers
"Putting on clean clothes changes how I feel about myself."
Clients who participate in one of our workshops and classes get the opportunity to receive Free Laundry Vouchers. These vouchers can be redeemed at Wash on Western, a local laundromat that has teamed up with us in the effort to help our clients wash their clothes, blankets, and sleeping bags.
In addition, our Amazon wish list allows supporters anywhere in the world to donate much needed items to help make the lives of our clients a little easier.
If you would like to support our Free Laundry Voucher program, please click on the "Donate" button above, or access our Amazon wish list here.
---
Unsheltered
"Art gives you wings."
A recurring series of art exhibitions presenting works by homeless, at-risk young adults in different locations, as an opportunity to showcase and sell their works.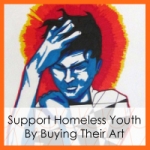 ---
Individual, Personalized Support
"We may not be able to save the whole world, but we can make a huge difference in one person's life."
Serving the homeless community we meet individuals who reach out to us more frequently than others. We get to know them better, and our relationships with them become more personal. This leads to us being able to provide more personalized, customized support.
Andrew is one of them. Part of our community of talented, young artists who have participated in Unsheltered, he expressed the needed to find work and a place to sleep and keep his belongings safe. After discussing options, we took Andrew to a car auction and purchased a used van for him. A Million Drops paid the full amount in advance, under the condition that Andrew would pay back half of it in low, monthly installments. And he did!
We also assisted him with finding a good, affordable car insurance, and paid for a AAA membership.
Andrew always showed up when he said he would, he communicated and asked us for advice. Seeing Andrew's true desire to make a change in his life, A Million Drops' board member Ross Dodds offered him a part time position as a driver for his laundromat, Wash On Western.
---
Making A Difference In A Young Girl's Life
"A Million Drops Made Me Realize I was Not Alone In This World."
When A Million Drops founder Maike met her the first time, Angelica was a 16 year old teenager, living with her mom in a small, shared room at the Union Rescue Mission in Downtown L.A. Maike was part of a mentoring program at the Mission, and recognizing Angelica's potential and desire for change, Maike took her under her wings.
Maike brought her along to introduce her to to people in her professional network, opening her eyes up to possibilities life has to offer once we begin to recognize our own potential.
She recommended Angelica to her friends for small, part time jobs that Angelica was able to do on the weekends while not at school (yes, Angelica went to school in spite of not having a home!), and everyone fell in love with Angelica's positive, kind attitude.
Growing up and learning to understand herself better, Angelica decided that in order to take care of herself, she needed to leave Los Angeles and her mom behind.  She contacted her grandmother, who invited her to live with her, and Angelica moved to San Antonio, Texas. There, she graduated high school, started working a regular job, moved into an apartment, and fell in love.
When Maike heard that Angelica and her boyfriend were going to get married, she immediately knew she had to be there for this event, to witness this big step in the life in the young girl who was the reason why Maike founded A Million Drops.
---
A Day For Kids Living On Skid Row
"Children need to play."
In collaboration with Reynaldo Sanchez, the owner of San Lazarus, a convenient store on Skid Row, Maike and her friends organized a whole day of fun activities for the children living at the Union Rescue Mission, a homeless shelter on San Juan.
The pictures speak louder than words, and while our focus has shifted to the homeless youth and young adults in the Hollywood area, it was this particular experience that made Maike realize she needed to found A Million Drops and provide help and support on a regular base.
---
Free Haircuts On Skid Row
"Getting my hair washed, cut and styled made me feel like a new person."
Maike didn't need to ask twice. Her hairstylist friends came on board quickly, willing to provide a day of free haircuts to the homeless on Skid Row, and Reynaldo Sanchez did magic, turning an empty storage room behind his convenient store into a makeshift hair salon, including swivel chairs and mirrors.
A local event rental place donated a large coffee maker for the day, a supporter brought coffee and cookies, from out of nowhere a ghetto blaster appeared, and for a whole day, hair stylist Reiynne Dekora and her team worked to the sound of soul music, washing, cutting and styling hair, shaving beards, even combing a wig, beautifying the men and women who were patiently waiting in line to get away from their lives on Skid Row for a few hours.