Our A Million Drops Learning Center has only been open for ten weeks, and already it is making a big difference in the lives of the young people who visit. They come in to rest, charge their phones, and enjoy a cold water and a snack. And once they have recovered a little from their daily struggles they start to explore.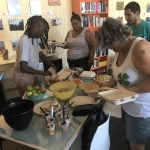 Some ask for art materials and draw for hours, forgetting the world around them, others pick a book from our in-house library and read quietly, some find a partner to play chess or scrabble, many make use of our (old) laptops to research or write a resume, or they just sit together and chat.
Three days a week, they get the opportunity to take a shower at the Adventist church next door or in the shower trailer provided by Shower of Hope, an organization founded by our friend Mel Tillekeratne.
On an average, we serve 10 – 16 visitors a day who consider the space their home, treating it with respect and pride, and making sure every newcomer does as well.
The first four weeks, AMD Director Maike was in charge. When she had to go back to working in her regular job, three of our guests stepped up to the plate and took on responsibilities. Josh, Jason and Craig make sure that the Learning Center opens and closes on time, and they take care of everything in between: from welcoming visitors and explaining our rules to first timers to handing out refreshments and snacks – or socks and toiletries if needed, and much more. And at closing time, they clean the place and water our edible garden. We couldn't be happier!
Our fundraiser is also going well! In only three weeks, we have received donations in the amount of $7,730, securing almost four months of rent!
If you would like to support us as well, please visit https://www.gofundme.com/homeless-learning-center.  Any amount is highly appreciated and will help us make a positive difference in the lives of some very awesome, less fortunate young people.