Free Laundry Night
"Putting on clean clothes changes how I feel about myself."
On the second Tuesday of each month, our volunteers gather at the Wash On Western laundromat to help homeless who live in the area wash their clothes, blankets, and sleeping bags.
 We provide coins and detergent, a snack, and an ear for listening. In addition, we bring toiletries, as well as new underwear and socks. Our Amazon wish list allows supporters anywhere in the world to donate much needed items to help make the lives of our Free Laundry Night participants a little easier.
A Million Drops' free laundry service is a simple and direct way to improve the lives of people on the street. Our monthly event is also a great opportunity for us to build relationships with the individuals who we serve. Our consistent presence at Free Laundry Night is confirming for them that we are here for the long run to listen, and to help make a difference.
If you would like to contribute to Free Laundry Night, please click on the "Donate" button above, or access our Amazon wish list here.
---
'Unsheltered'
Art gives you wings.
A recurring series of art exhibitions presenting works by homeless, at-risk youth and young adults in different locations, as an opportunity to showcase and sell their works.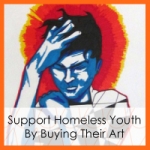 ---
A Day For Kids Living On Skid Row
Children need to play.
In collaboration with Reynaldo Sanchez, the owner of San Lazarus, a convenient store on Skid Row, Maike and her friends organized a whole day of fun activities for the children living at the Union Rescue Mission, a homeless shelter on San Juan.
The pictures speak louder than words, and while now, our focus is on the homeless youth in Hollywood, it was this particular experience that made Maike realize she needed a place where she could provide help and support on a regular base.
---
Free Haircuts On Skid Row
Getting your hair washed, cut and styled makes you feel like a new person.
Maike didn't need to ask twice. Her hairstylist friends came on board quickly, willing to provide a day of free haircuts to the homeless on Skid Row, and Reynaldo Sanchez did magic, turning an empty storage room behind his convenient store into a makeshift hair salon, including swivel chairs and mirrors.
A local event rental place donated a large coffee maker for the day, a supporter brought coffee and cookies, from out of nowhere a ghetto blaster appeared, and for a whole day, hair stylist Reiynne Dekora and her team worked to the sound of soul music, washing, cutting and styling hair, shaving beards, even combing a wig, beautifying the men and women who were patiently waiting in line to get away from their lives on Skid Row for a few hours.