BOARD OF DIRECTORS
Maike Both, Founder & Executive Director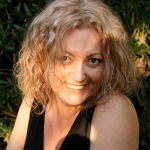 Born and raised near Hamburg, Germany, A Million Drops founder Maike Both moved to the United States in 1992 to work for an L.A. based music artist management company before switching to a career in the film industry. In 2006, she started selling Unfuck The World t-shirts to raise money for charity, and what began as a hobby has grown into a full time calling.
Since 2013, Maike and her team have organized numerous local and global events, including fundraisers, donation drives and free haircut days for the homeless people. Maike also started Free Laundry Night, offering free laundry to people in need; Unsheltered, a series of art shows featuring works by homeless, at-risk young adults, and currently, her focus is on organizing programs for the A Million Drops Center.
---
Ross Dodds, Co-Director
Originally from Louisville, Kentucky, businessman and entrepreneur Ross Dodds invited A Million Drops to hold their monthly Free Laundry Nights at his laundromat, Wash On Western, and he quickly became an irreplaceable member of the Board.
Being an endless source of information and a natural-born networker, Ross finds a solution for every problem. He is not just a part of the Free Laundry Night team, he is also on the planning committee for AMD events, including fundraisers, and the A Million Drops Center.
---
Denise Grisco, Board Member
Born and raised in Los Angeles, Denise Grisco grew up around all types of wild and domestic creatures, with a dad who was an animal trainer in the motion picture industry.
Now a single mom working full time at a local prop house, Denise originally joined the A Million Drops board to be in charge of overseeing our monthly Free Laundry Nights; she now also co-produces events and fundraisers and is a very active part of our ongoing outreach work.
---
Don W. Neil, Board Member
Born in Oklahoma and raised in the San Fernando Valley, Don W. Neil started his own landscape design company when he was only 19 years old. After over 20 successful years in the business, he decided it was time for something new, and he went to work for  a Hollywood based studio rental company, creating custom floral designs for tv & film productions.
At A Million Drops, Don is in charge of event organization, coordination, and he assists in our outreach programs.
---
Scott Ford, Supporter of the Board
Scott Ford is the owner of Twerp Laboratories, an L.A. based design and web development studio that works mainly with startups, small businesses and non-profits.
Scott joined the board of A Million Drops in his capacity as an art director, creative consultant, graphic designer and photographer.
---
Russel Pinkard, Supporter of the Board
Russel Pinkard is a Southern California native with a background in communication technology.  He currently works for one of the country's leading audio visual systems integration firms and oversees projects nationwide for a variety of notable clients.  His educational background is in music and technology and is a graduate of Expression College for Digital Arts in Emeryville, CA.
With a diverse background in both technology and business development in the corporate world, Russel brings a wealth of experience to the table.  His goal is to help facilitate and capitalize on resources brought to A Million Drops by implementing smart, savvy and engaging uses of technology.
---
Frank Uchalik Jr., Supporter of the Board
Frank Uchalik Jr. was born and raised in Southern California. In the 1990s, he became known as the skateboarder for Dogtown Skateboards, Independent Truck Co., Red Sand Clothing and Hot Rod Skate Shop, and he appeared in numerous skateboard videos and magazines. He is now the President of Alpha Medical Resources/Spellman Desk Company, a prop rental company owned by his family.
Frank Jr. has been involved in nonprofit work for a number of years, organizing golf tournaments to raise money for pancreatic cancer research and patient services., and he is on the Board of A Million Drops to support our fundraising efforts.
---
Matt Gerlach, Outreach Programs
Having spent his childhood and teenage years in Silicon Valley and San Diego, Matt Gerlach moved to Los Angeles to work as a fundraiser for the L.A. Youth Network.
In 2014, Matt joined the A Million Drops team with a focus on reach-out and trust building within Hollywood's young homeless community. Not only does he do the footwork, walking the streets of Hollywood to invite young people to our monthly Free Laundry Nights, Matt also works with the board on organizing events.
---
Matt Stewart, Design & Web Maintenance
Matt Stewart, owner of little guy design in Omaha, Nebraska, joined the A Million Drops team in January 2014 as our most dedicated and supportive graphic and web designer/developer.